Tags¶
The tags make it possible to create categories. There are three kinds of tags:
tags of works
group tags
rights tags
Tags are created from the Sage Setup screen.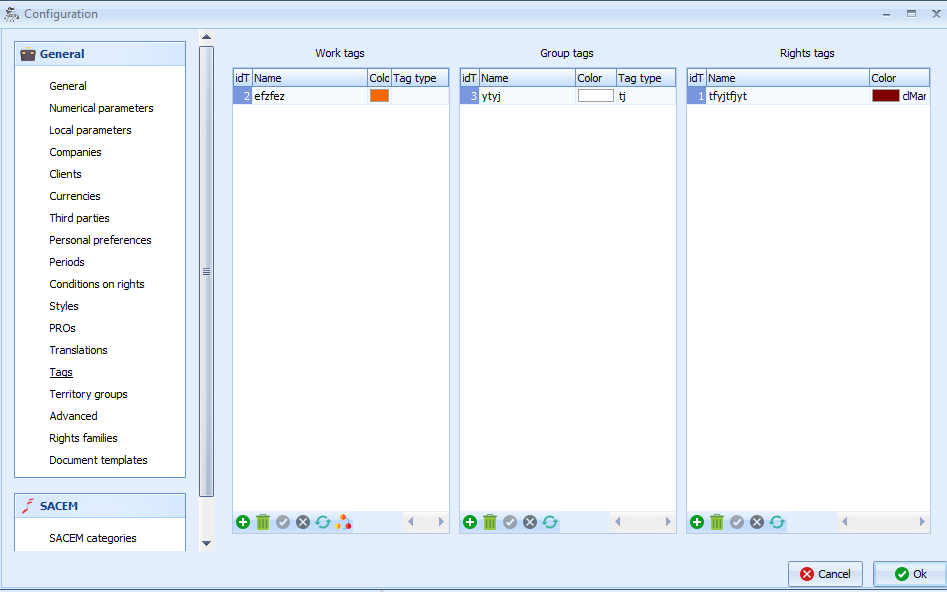 From this screen you can:
add
remove
validate
update the changes
create a group from the works tag. This group will automatically be dynamic.
Work tags¶
Labeling your works is a subtle way to refine how to manage your catalogues. Link them to a client, a project, an actor, … It's a management tool. In a dynamic way you can group the tagged works outside their original group.
Group tags¶
Group tags are used to make groups of groups. These tags are used in 3 cases:
in the list of groups, the list of tags (on the left) allows you to restrict visible groups (on the right) and thus to find your way among the dozens of groups that you could create
in the analysis operations (charts and cost effectivness) to aggregate the data of several groups (cost effectivness indicates a subtotal per group)
for the export of catalogues
A group can be linked to several tags.
Rights Tags¶
Rights tags have been designed to address issues of entitlement payments. According to certain circumstances you will want to isolate a payment on a work in order to pay it differently: postpone it, apply different royalties, …. By tagging a line of law you can add in the contract that applies to this work, a line establishing a different distribution according to the condition on id tag or tag label (Configuration of Le Sage).