Top earnings¶
Top earnings makes it possible to compare the royalties received by catalog, works of the same group, a company, etc.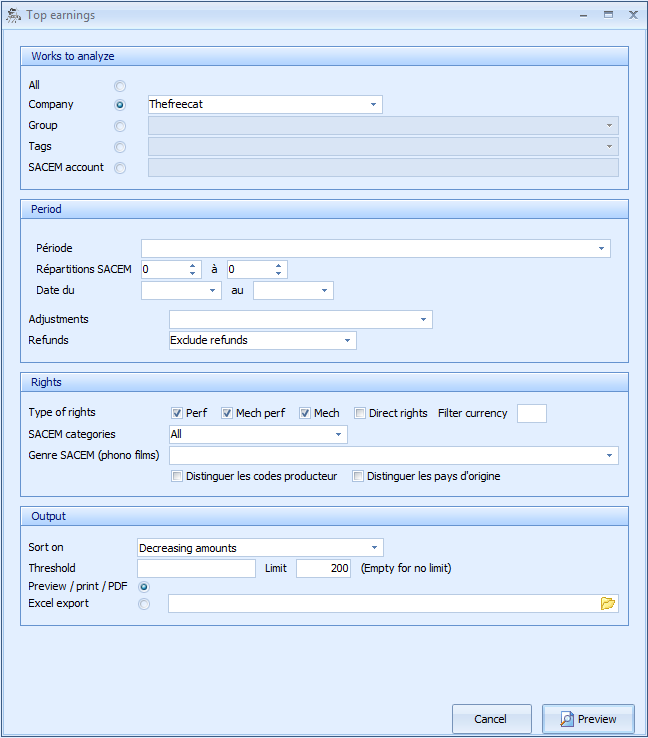 Works concerned
ALl : to compare all works in the database.
Company : all works linked to a company. The company is the one mentioned in the works form.

Identification

Group : slect a group
Tags : tag on group, to compare several groups at the same time.
Account (SACEM) : one actor that has been payed
Period
Period : period filled in in configuration Period

SACEM royalties : choose the royalty number

Dates : all rights between two dates.

Corrections (SACEM) :

all corrections
the ones credited
the ones debited
exclude them from the chart

Refunds : following an advance an author / composer asks SACEM to grant you his rights until reimbursement.
Rights
Types of rights: Perf, Phono, direct local rights,

Filter per currency

SACEM columns : choose a column or a group of columns.

Genre SACEM (phono films) : choose a specific genre

Présentation :

distinct rights by label code
distinct rights per country
View
Sort by :

alphabetical order
by amount received
by CoCv

Threshold : number of works to be shown

Preview : preview of the PDF version of the chart

Export Excel : choose the folder in which the excel file will be saved.